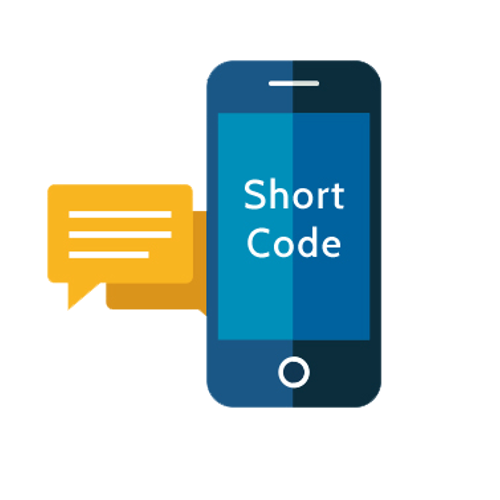 Short Code
SMS short code is a 5 digit number, provided by mobile network operators, on which data (SMS) can be sent by subscribers of the mobile operators. All incoming sms, to the short code can be made available with full details to the customer.
SMS Short code service is primarily used for lead generation or receiving feedbacks from the customers. In a shared short code environment every company which wants to avail this service will be provided with a Keyword (Keyword is an unique identifier for your company on our shared short code. e.g. if, your companies name is XYZ Ltd and you took a keyword say XYZL on our short code then every message which starts with XYZL and a blank space will be forwarded to your panel.
In short we recognize the incoming messages on the basis of keywords and forward it to the respective companies account.
Short codes are pre-approved by carriers to have a high throughput and are not subject to carrier filtering. This makes them perfect for sending those high-volume or time-sensitive messages. Here are some ways they're being used by developers:
Marketing and promotions.
Alerts and notifications.
Two-factor authentication.
Watch Video on How Shared Long Code Works
Features
Short Code - Features
Pricing
Short Code Pricing
Types of Short Codes
Different Types of SMS Short Codes
Two types of short codes are used for SMS marketing
Random Short Codes:
Random short codes, also referred to as "non-vanity short codes"
A random 5 or 6 digit text number is given, when applying for a new code.
Vanity Short Codes:
Vanity short codes, just like license plates, give you the option of choosing what your number will be.
Vanity codes are more expensive than random. You can select numbers that are easier to remember.
Frequently Asked Questions
What is a Short Code?
Short codes are five digits in length and have to start with the digit '5'. The five digits can be extended by three digits further representing three additional characters. Texts sent to these Short Codes are commonly referred to as Premium Rate SMS Messages and cost around Rs 1 to Rs 3 per text depending on the operator as well as the service. Any length of full message can be sent, ranging from 100–500 (some providers only support).
When to use a short code?
Competitions & Voting
Marketing, Promotions, Campaigns
Two-factor authentication
Alerts and notifications
Is Long Code Costlier than Short Code?
Long Codes are cheaper to use than short codes.
How is Long Code different from Short Code?
A Long Number is the only type of text messaging code that allows your business to send and receive messages around the world, whether it's to a few different countries or internationally.
Short codes, on the other hand, do not have the capability of inbound or outbound calling. Instead, short codes are more advantageous as they are designed and intended to use when your text messaging campaign requires a high volume of messages that get sent and received daily.
Shared Long Code
Shared Long Code
How Shared Long Code is Different from Dedicated Long Code
Short Code
5 or 6 digit short phone number exclusively for sending SMS
Fast: About 40 SMS per second
No limitations
Expensive
Long Code
10-digit phone number for sending SMS
Slow: 1 SMS per second
Carrier regulations do not allow SMS broadcasting
Cheapest option